Bio
Delbert Anderson, member of the Navajo tribe, is a professional trumpet performer, pedagogue, and jazz musician. Born in Shiprock, NM, Anderson discovered his interest in music playing drums and singing for the church.  Anderson is known for creating the Delbert Anderson Trio (DAT) and being a developer of music educational programs and community projects. 

"Delbert Anderson is a strong, visionary creative artist. His music bridges cultural traditions, and is delivered with an urgency and passion that captivates. He is an important voice for his community and his generation of American artists." - Brad Goode

Delbert discovered his passion for jazz and improvisation in his early years of education. Anderson went on to attend Eastern New Mexico University studying music education and trumpet performance. Anderson credits his educators:  Janet Isham, John Kennedy, Christopher Beaty and Dustin Seifert - for his success in the music field. Anderson now resides in Farmington, NM where he's active as a performer, composer and educator. 

"Anderson's music puts Navajo culture through melodies inspired by ancient songs of love and war while fusing them with modern jazz and funk."
- NPR Earthsongs

Anderson regularly performs with his new collaborative group DDAT, which is the Delbert Anderson Trio featuring lyricist James Pakootas, an ensemble inspired by ancient Native American melodies fused with jazz, hip hop, funk and soul. Anderson has performed with today's jazz greats T.S Monk, Bobby Watson, Brad Goode and many others. In addition to his active performing schedule, Anderson directs the San Juan College Jazz Big Band and Combo in Farmington, NM and is a private lessons instructor. He has been actively involved with his mentor program NAMP - Native American Music Program, the Native American Composers Initiative, Chamber Music America, Western Arts Alliance, Advancing Indigenous Performers, Association of Performing Arts Professionals, National Band Association, National Association of Music Merchants and International Trumpet Guild. 

"Delbert Anderson is a rising trumpet star in the music world who combines a mastery of his craft with the unique ability to express himself in multiple genres. He is a man ahead of his time. What he is doing is the future of music. He can reach deep down into his soul and bring his audiences to the point of communal and joyous rapture." - Rodney Marsalis
Delbert Anderson has received the 2021 Chamber Music America Jazz Presenters Award, selected for the Western States Arts Federation 2021 Emerging/Leaders of Color Program, 2019 Western Arts Alliance Launchpad Award, IM Tour Artist Affiliation, 2020 Caldera Residency and 2019 APAP Doris Duke Access Award. 
Please join Anderson's mailing list for latest endorsements and updates.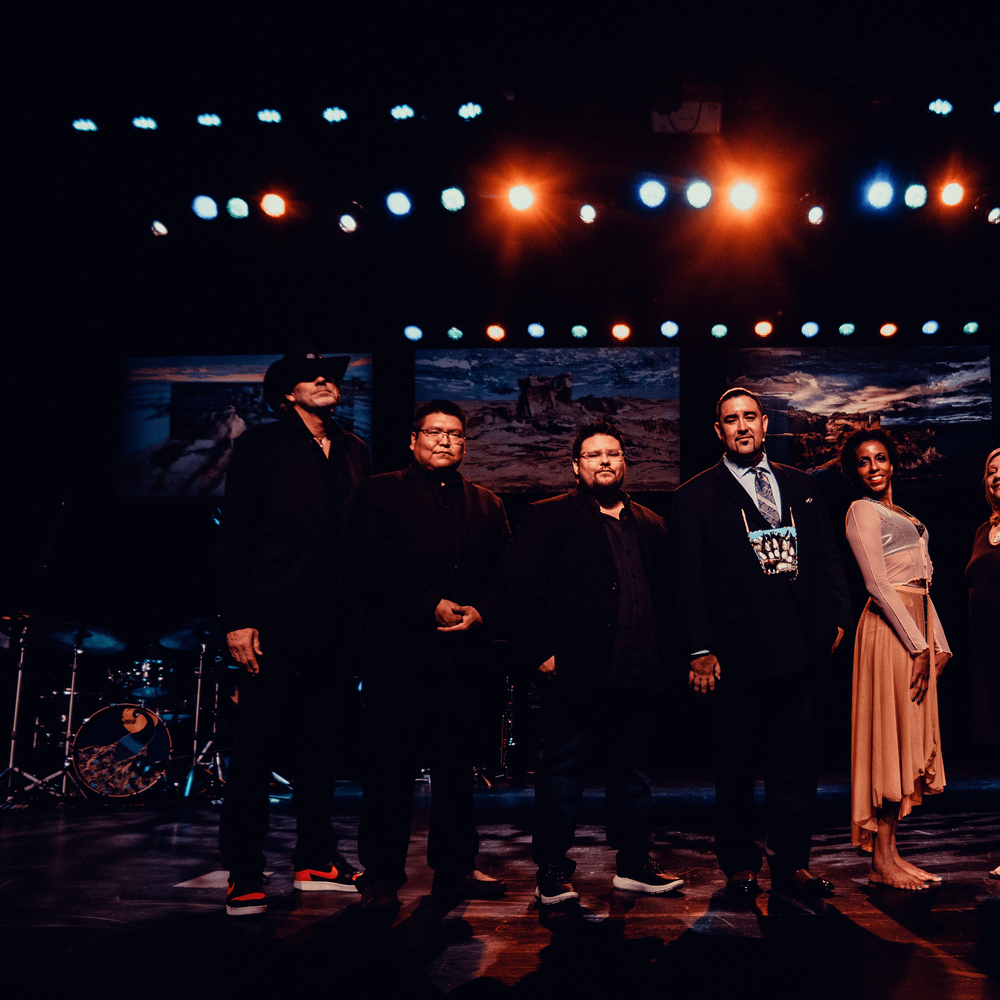 Spirit Coalescent
Community project premiers at the Farmington Civic Center
Sunday August 8,2021 at 2:00 PM the Spirit Coalescent had a sneak peek of their multi arts collaboration. 
The project consists of Photography, Painting, Music, Dance and Poetry.
The Spirit Coalescent tells the story of healing through 8 large paintings of landscapes. It is a common belief from many Indigenous tribes that "The Land Heals Us". 
Spirit Coalescent brings out the healing of each landscape through stories, poems, painting/photo fusions, original compositions and dance/choreography. 
Stay tuned for a very deep meaningful story.
Blue Desert Virtual Tour 
1st video presented by the northwest New Mexico arts council
To end 2021, D'DAT did their last 2020 performance in-person at Downtown Denver, CO - Magnolia Hotel. We were super excited performing for a virtual audience on social media platforms! Take a look quick look into our adventures! Believe us, it was an adventure! To the New Year 2021!