Recording Session - Cherry Pepper by Chris Beaty
October 20 - 24, 2021 Don Cherry Tribute Recording Session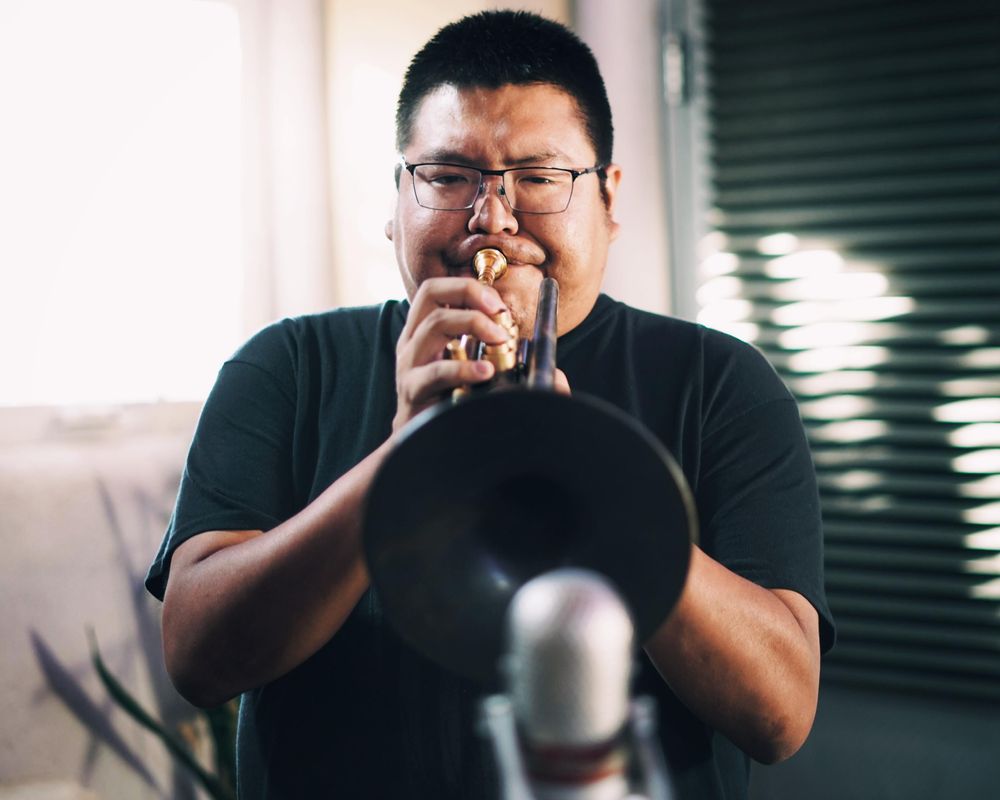 Delbert Anderson
Inderbinen Trumpet Big Bell, Carol Brass Pocket Trumpet
"In 2020 D'DAT submitted a 15 minute showcase video to Folk Alliance International. During our showcase, a gentlemen sent me a message on the virtual platform. It was from Mark Weiss, Palo Alto, CA. He stated our sound reminded him of Don Cherry's music. He immediately offered a demo deal for me to compose a piece as a tribute to Don Cherry through my Diné cultural music. I was excited and began to put ideas on paper of what I could come up with. I later decided I was going to make an 8 track album, a Tribute to Don Cherry. Mark then asked what I needed and I responded with "friends and a studio". After much discussion, Mark's label Lions with Wings was going to be the official sponsor of this album. 
I immediately reached out to Jason Reed from Frogville studios in Santa Fe and reserved our time slots. I then chose who would be on this great journey!
Delbert Anderson - Trumpet(s), Vocal
Christopher Beaty - Tenor Sax, Flute
Nicholas Lucero - Drum Kit, Percussion
Mali Obomsawin - Upright & Electric Bass, Vocal
Robert Muller - Electric Keys
James Pakootas - Vocal
Julia Keefe - Vocal
Alexandria Holiday - Vocal 
Pura Fe - Vocal 
I had a great time studying and getting into the life of Don Cherry. There are so many routes we could have taken with this album. I believe many people will think this album is going to be a cover of Don Cherry compositions, but I can tell you now this is not the case. As I spoke with various musicians who had the pleasure of meeting and knowing Don Cherry, many said he was humbled and a very fun guy who was all about the journey and relationships to culture. Very highly respected musicians such as Ornette Coleman, Sonny Rollins, Herbie Hancock, and many more said Don was all about the journey and ideas. His ideas were far ahead of his time! 
As I started to listen to Don's playing and trying to relate, I came across an interview where Don talked about the criticism he faced many times. There were many musicians who didn't think Don was a great player and that he lacked many fundamentals. Many would think of Don as a non-professional. But in Don's interview he said everyone is missing his point and talked about a horizontal story board of him getting to point A to point B, while others look vertically at one tiny moment of his journey. I started thinking about music in a different way, not exactly how music will work and who can best fill a spot, but who as human beings would connect easily with one another. A bigger picture started to form in my head about music. Music was never about who could play the very best or who is creating the next best thing, it was about meeting our fellow musicians, getting to know them, building the relationships and connecting with them through an art form. I believe this is why Don took great interest in each of his collaborators. Some of his friends liked to call him a people's person. His view point made me realize I was going about this entire project the wrong way. After accumulating the inside stories and funnies of Don, I thought to myself how Don would respond if I told him I'm doing a Don Cherry Tribute. I believe this is how he would have responded, "Del, you do what you want, but you be you." 
After a long week of thinking about this concept, I've decided to go into the studio with ideas with little structure. I left it in the hands of everyone's character, personalities, skill, thoughts and most importantly their relationship building. These components had to be in place before we started to make music. It was interesting seeing everyone come in at different times and introducing themselves. I then realized all this set up, greeting, making food, talking music is nearly 50% of album. We literally allowed Frogville studio to be the birth place of whatever is to come. The music was composed there in live time, everyone had ideas and not a single person told another of how to play. This collaboration was getting legs very fast! 
Everyone contributed a piece to the album and in doing so, everyone became friends. Now, I understand the importance of music, collaboration and relationships. Don Cherry knew this concept very well, which is why he jumped at the ideas of collaboration. The music is important yes, but the human relationships and cross cultural collaborations can keep peace intact. Cherry was about humanity and using our differences to help strengthen one another. 
I hope you enjoy our tribute to Don Cherry!"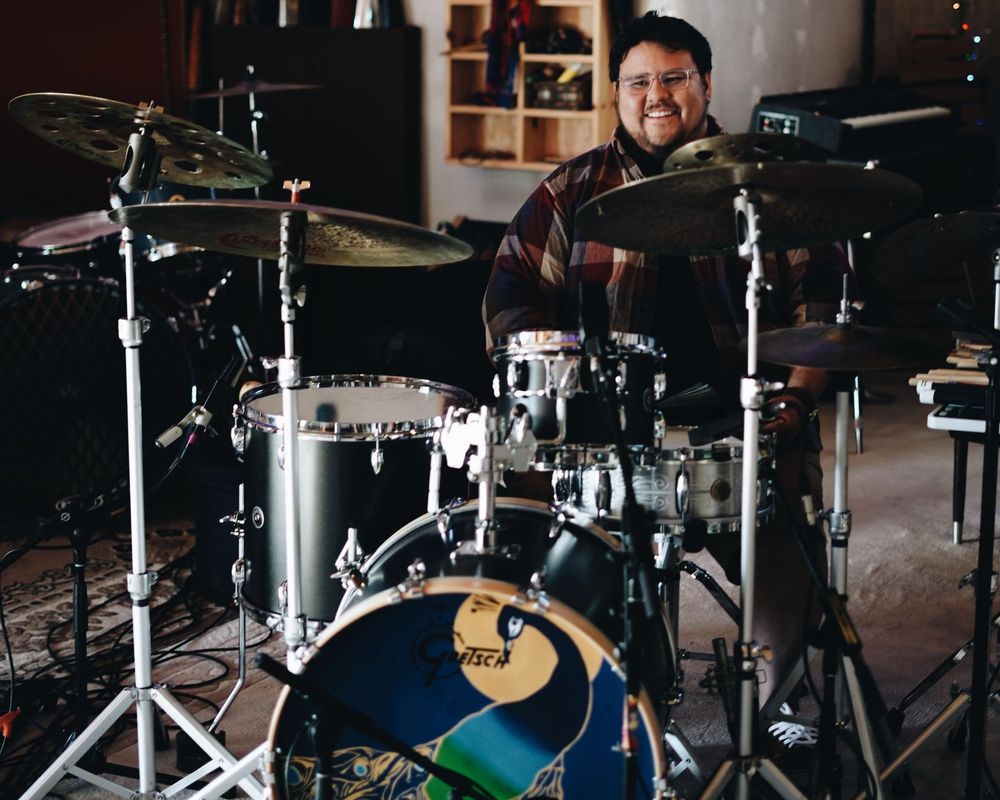 Nicholas Lucero
Gretsch Drums | Bosphorus Cymbals | Evans Drum Heads | ProMark Sticks | Motion-Pro Drum Throne | TNR Products | Cymbal Resonance Systems | Percussion
"Coming together to create this album was an absolute joy. The nature of Cherry's music was eclectic, social and community-centric and the musicians that Delbert Anderson assembled for this project really embodied that ideal. Musicians from an eclectic background brought together to create music and to create a micro social community for a few intense days and truly leave as friends was a beautiful thing to experience. We all got to craft and give input to each song and pay homage to different era's and sounds of Don Cherry. This was truly a one of a kind project with a beautiful group of musicians that I felt lucky to to perform, create with and know. I'm sure that magic we felt in the studio will translate to the album."